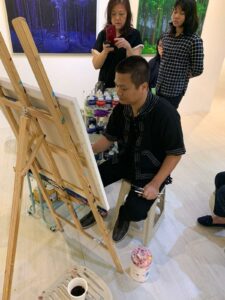 Pann Kyi (b. 1983)
Thaton Township, Mon State, Myanmar
Pann Kyi, was born in Myanmar in 1983. He was a quiet child  who likes to draw cartoons or illustrations. He graduated from University  of Culture in Yangon from the Department of Painting and obtained a B.A in Painting Honors' Qualification.
Pann Kyi first encountered the breath-taking beauty of huge bamboo forests at the suburb area of Yangon, which shortly became his most famous and popular motif. Pann Kyi has consistently been attracted by the beauty of nature and especially moved by the figure of trees. He expresses his deep love for nature and his country through his paintings. The basic single theme color, like yellow, green and blue often represent the seasons of summer, monsoon and winter, respectively. By adding rich yet pellucid layers of color with a pallet knife, Pann Kyi successfully depicts the serene atmosphere and mysterious depth of the forest space on the canvas.
A native forest never shows the same scene every day and night by seasons. Pann Kyi, however, attempts to capture the miracle moment and space of nature permanently on the canvas with themed colours in the artist's mind by embracing the enigmatic depth of the forest and rays of light filtering through canopies and branches. Often the tiny figures of people and cattle in his paintings disproportionately contrast the imaginary of tall trees, which subtly arouse awe in nature.
Pann Kyi meditates on a vision of forest beauty. His works represent an ability to seek peace and contentment, even when the leaves changes color.
"I love nature and the quiet feelings it inspires. When I painted these, I felt peaceful. I want to share this feeling with my audience." – Pann Kyi