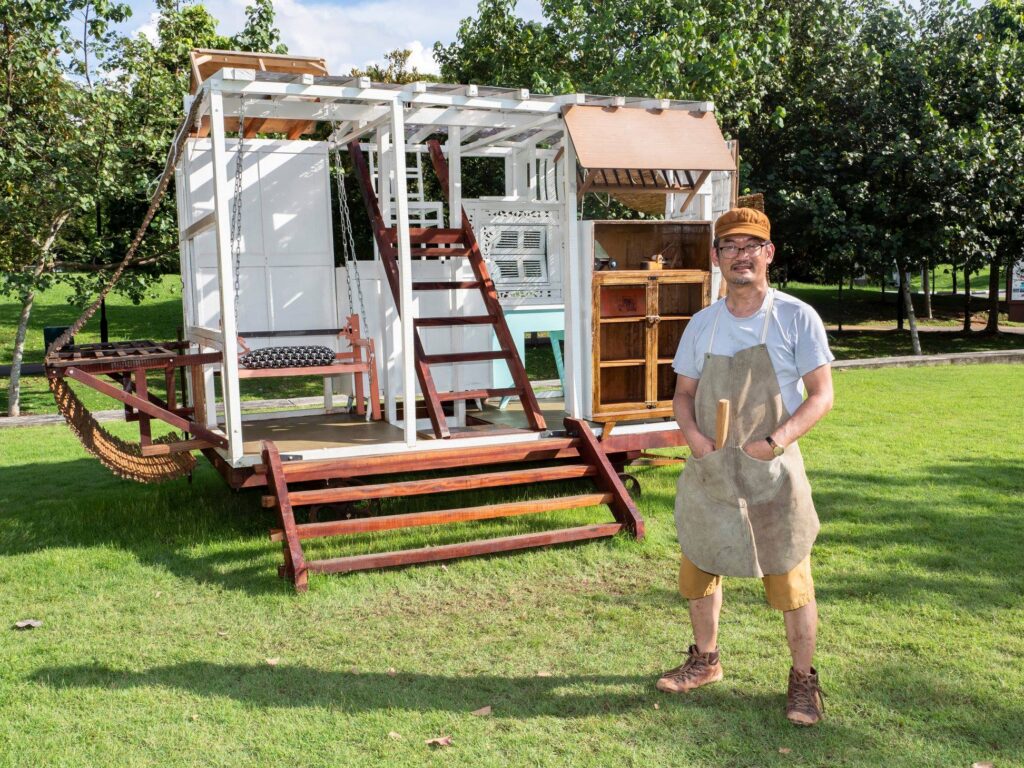 Chiew Sien Kuan 赵善君 | 1965 | Singapore
'Finally, be strong in the Lord and in his mighty power. Put on the full armour of God, so that you can take your stand against the devil's schemes. For our struggle is not against flesh and blood, but against the rulers, against the authorities, against the powers of this dark world and against the spiritual forces of evil in the heavenly realms…' (Ephesians 6:10-18)
Chiew graduated from NAFA in 1989 majoring in painting and obtained both his Bachelor of Fine Art and Master of Fine Art at the University of Tasmania. In 1992, he was awarded the Highly Recommended Prize in the Australian Bicentennial Art Award of Young Artists (Painting). The following year, he attained First prize in the 3D category at the Phillippe Charriol Foundation Contemporary Art Competition (Sculpture). His artistic research interest is pertaining to Painting & drawing (  ) Machine – re-examining traditional aesthetics through the use of materials, be it found objects, recycled, experimental or conventional.
The aim of Chiew's works is to understand the desire of mankind building up city that encompasses the presence and absence of our physical and spiritual space – the interactions and interfaces of places, times and thoughts of city life-style. In relations to where he is being bought up from – an island state city, Chiew is questioning Painting & drawing (  ) Machine, as a metaphor to demonstrate a form of self-recovery and self-realization process from a complex, yet stereotypical and bewildering 'city machine'.
Chiew's drawings and paintings are personal commentaries on the issues of modernity and rapid urbanisation that affect people's sense of being, creating altered states of mind. His work is preoccupied with issues of environmentalism, renewal, loss of urban spaces, economic progress and technological development that have inevitably influenced and changed people's sense of reality. Chiew's paintings reflection of subconscious minds that are in constant flux, reacting to these changes around us. With broad confident strokes, Chiew draws and paints exuberantly on paper, demonstrating a unique sense of freedom and free-spiritedness in his style of painting. His sculptures are characterised by the use of found objects sourced over a period of time sometimes 10 – 15 years. By formalising the accidental, he probes into the subconscious mind enticing the viewer to re-think and re-examine the subject matter in the work. The seemingly random assemblage of materials may not seem finished, it is constantly a work in progress.