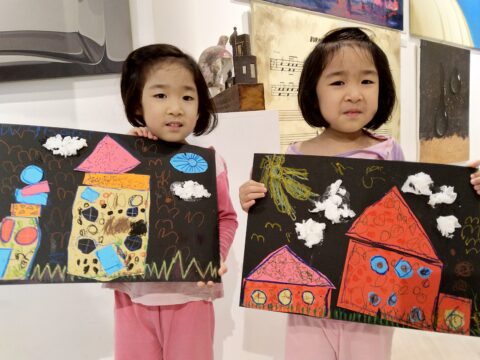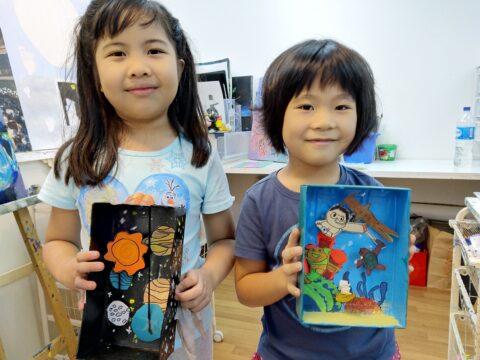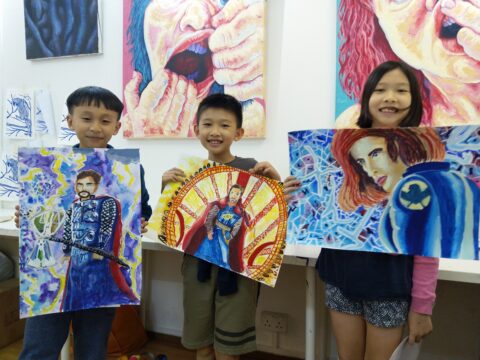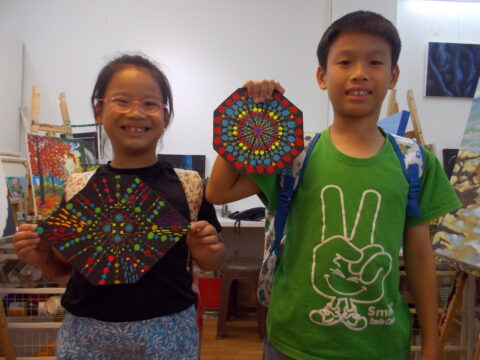 Each year, Artvillage conducts a wide selection of regular programming for each month of the year for our Level 1, 2, and 3 students. The variation of our available programs changes each month, usually based on the basic principles & elements of art and design. Ranging from painting, drawing, mixed media, and inquiry into new mediums, we can guarantee that our students are exposed to a vast variety of what art can strive to achieve. Both dry and wet, as well as 2D and 3D mediums are available for exploration, and each month our students amaze us with their gained knowledge, originality, and growth!
Our regular programming focuses and recycles through either of these basic principles: technical application, creativity, and hand/eye coordination, which we apply through painting, drawing, or the exploration of a new medium. By focusing on one of these fundamentals of learning each month, we ensure that our students are able to gain a wider perspective of not only the variety of art styles presented to them, but also of their capabilities as young growing artists. It is through our programming where we are able to learn of each student's strengths and weaknesses, and likes and dislikes, allowing us to tailor our teaching methods to suit, nurture, and unleash our student's creative mind to its artistic potential!
Technical Painting/Drawing
Students will be taught the fundamentals of drawing (perspective, proportion, composition, etc.), painting (color theory, paint application, the importance of light and dark, etc.), and art (line, shape, form, value, space, texture, color, etc.), as we focus on strengthening their basic skills as young artist. Different art theories and various mediums will also be introduced at both beginner and advanced levels, as we often focus on observing a certain artist's style or way of thinking.
Creative Painting/Drawing
Students will focus on discovering their creative ability and enhancing their mental development, as we encourage their love and curiosity for themes they are passionate about. Art is full of possibility, and can be used as a tool in establishing both personal and social discussions in the modern world through the usage of important themes and the incorporation of certain element in an artwork. It is through creativity in which we strive to promote art appreciation, to strengthen a student's creativity and independence, and most importantly to teach our students how to see the world through the eyes of an artist.
Arts and Crafts Play
Students will use their dexterity in incorporating both 2D and 3D elements together, as they learn to see objects from a multi-angle and use new tools presented to them. It is through playing with materials in which our students are the most free, and are able to discover their areas of interest as they craft objects that are personal to them. We encourage our students to learn how mediums can work together as compliments, as well as how certain mediums can substitute themselves as a fundamental of painting or drawing in an artwork.
Each program is conducted for a duration of 2 – 5 sessions depending on the complexity of the piece and the age group. After our student's have completed the assigned monthly program, they are free in choosing what their next artwork would be before the following monthly program commences. We encourage our students to attempt artworks of varying mediums and styles, as this strengthens their knowledge and Independence! No experience is needed and we will supply all materials needed, all that we ask for you to bring is a smile on your face, good attitude, and an eagerness to have fun with us! Sign up now and we'll see you here soon!



For the month of March, our Level 1, 2, & 3 students will be creating a series of artworks using a range of mediums! Each level's program will focus on enhancing a particular creative or arts & crafts skill. Our theme for this month is: Colour Theory.
 Our Level 1 students will be making their own Piet Mondrian Inspired Artwork. Students will learn basic colour theory as well as how to mix their primary & secondary colours .Students will experience painting in flat but vibrant hues using poster colour.
Our Level 2 students will be creating Colourful Landscapes based on the style of Tracey Turner. Students will not only learn basic colour theory, but learning how to use these colours to create a cohesive artpiece.

Our Level 3 students on the other hand, will be taking their creative cues from Grant Haffner with his Vibrant Open Road Styled Paintings. Students will not only learn how to use their tertiary colours but the technical skill to blend it all together.


LAST MONTH'S PROGRAMME STUDENTS