Art Village is an independent art gallery and studio, as well as an academy for all ages. Found in the year 2014 by Myanmar and Singapore based artist Mrs. Nyein Su, our aim is to inspire both children and adults to love art and do art in an environment comprised of professional art, where students are able to learn from professional artists. We hope that by bringing art and teaching together, our students will be able to grow into young budding artists themselves, as we cultivate the creativity and techniques of each and every individual to their fullest potential.
At our studio, we have fun, make friends, and hang out, all while cultivating our shared love and spirit of the arts! We strive for our students to become more confidence in themselves and their skills as young, budding artists, as they gain the experience through exciting mediums, technical finesse, and artistic styles. By teaching our students how to see the world through the eyes of an artist, we hope to encourage them to love nature through art, and art through nature. We foster a fun, innovative, pressure free learning environment, where freedom of expression and excellency work together to bring out the best in our students! We look forward in welcoming you into our tight knit family of young artists alike!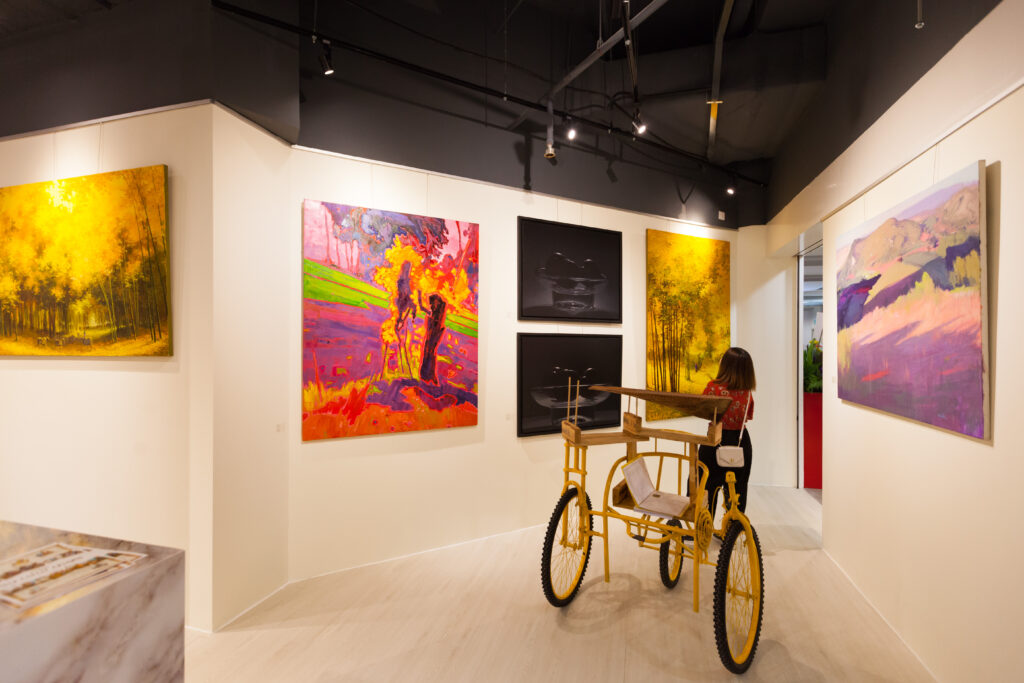 Want to start your own Art Studio but don't know how, and where to begin? You can now start a franchise with Art Village!
With our humble beginnings in 2014, Art Village has expanded to over 3 Art Studios & Galleries. We offer a fun and innovative space that can inspire both children and adults to love art and do art in an environment comprised of professional art, where students are able to learn from professional artists. 
As our motto goes: "Find Your Talent. Build Your Passion". We look forward to discussing any enquiries about starting a franchise with us; from passionate, like-minded individuals, who would like to be part of an artistic journey. 
To find out more, you can send us an enquiry through the link below, or alternatively email us at: [email protected]
NEW OUTLET @ KATONG VILLAGE
Art Village has opened up our third gallery & studio at Katong V Shopping Centre! We can't wait to see what new exciting adventures, enthusiastic students, & experimental artists we'll have the joy of meeting!
To celebrate the occasion, we will be providing FREE TRIAL CLASSES & a waver of our registration fee ($30) for the month of August at Katong V! Stay tuned for more news & updates on our new outlet, as well as our upcoming new art programs which our teachers have been tirelessly working on! We can't wait to see all of you there soon!
To register early, you can register online down below, or alternatively email us at: [email protected], send us a message at: +65 9729 7004, OR call us at: +65 6518 4284 (KV) to book a free trial session now!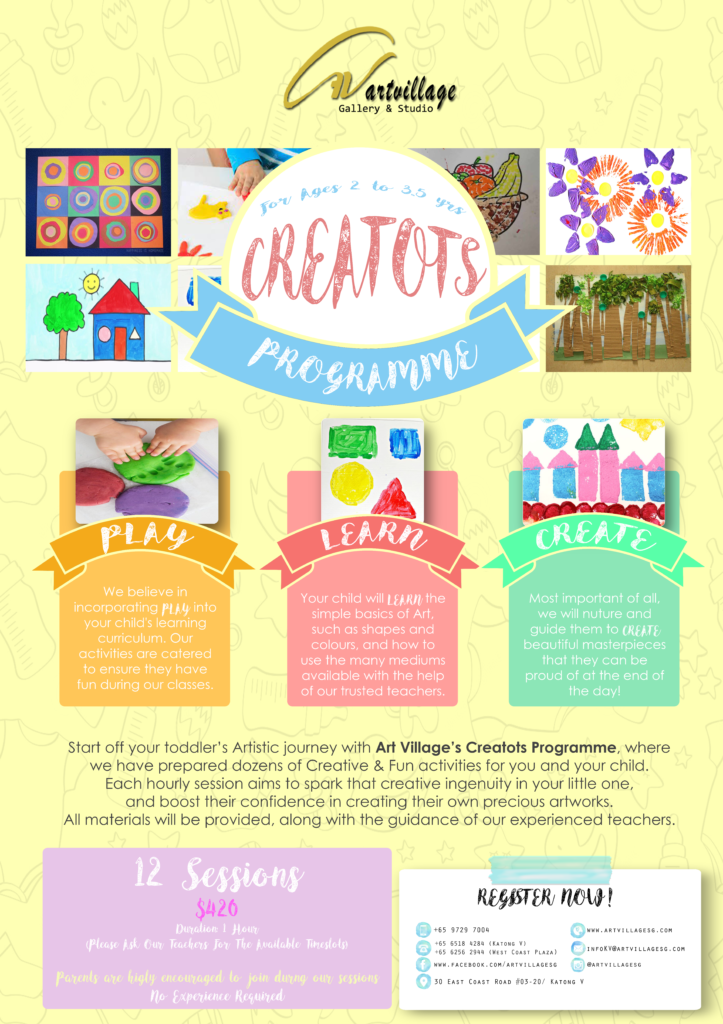 NEW CREATOTS TWELVE Session Programme
Introducing Art Village's CREATOTS Programme, a new curriculum catered for toddlers aged 2.5 – 3 Years Old. With this new programme we will be covering your little one's artistic journey; learning shapes and colours, how to use a variety of mediums and most importantly to have fun throughout their learning process.
Parents are allowed, and highly encouraged, to join in during these sessions!
We hope to see you for this new programme!
REOPENING OF ONSITE CLASSES FROM 21 JUNE ON-WARDS
Long time no see! In view of Phase 3 (Heightened Alert), in-person tuition &
enrichment classes for those ages 18 & below can resume with enhanced safe management measures in place. We hope everyone has been well during this past month, & we look forward to finally welcoming you all back to the studio!
To provide a safe learning environment for everyone once we open, please kindly note the following measures that will be carried out in our centers:
1. All students and teachers are required to wear face mask at all times.
2. Parents and visitors are not allowed to enter our studios and West Coast Plaza outlet gallery's teaching space.
3. Students, teachers and visitors are to use the TraceTogether App or Token to check in.
4. Students and teachers must take temperature before entering our studios and gallery.
5. Students and teachers are to use hand sanitizers before and after entering our studios and gallery.
6. Safe Distancing of 1 meter.
7. Students who are not feeling well should stay home and rest.
8. Students may consume drinks only to stay hydrated.
9. Tables, chairs and easels will be wiped and sanitized before next student uses them.
We thank you again for your patience & continued support during the past month, & hope for your kind understanding with the above arrangements. If you have any questions, please do not hesitate in contacting us. We can't wait to see all of you at our studios soon!
ART CLASSES FROM 2 YEARS OLD TO ADULTS
NEW PROGRAMMES EACH MONTH
Each year, Artvillage conducts a wide selection of regular programming for each month of the year for our Level 1, 2, and 3 students. The variation of our available programs changes each month, usually based on the month's public holiday, season of the year, or an artistic style. Ranging from painting, drawing, mixed media, and inquiry into new mediums, we can guarantee that our students are exposed to a vast variety of what art can strive to achieve. Both dry and wet, as well as 2D and 3D mediums are available for exploration, and each month our students amaze us with their gained knowledge, originality, and growth!
Our regular, holiday, and specialized programmes focus on either of these basic principles:
Technical Painting/Drawing
Creative Painting/Drawing
Arts & Crafts Play
Medium Exploration
No experience is needed and we will supply all materials needed, all that we ask for you to bring is a smile on your face, good attitude, and an eagerness to have fun with us! Sign up now and we'll see you here soon!