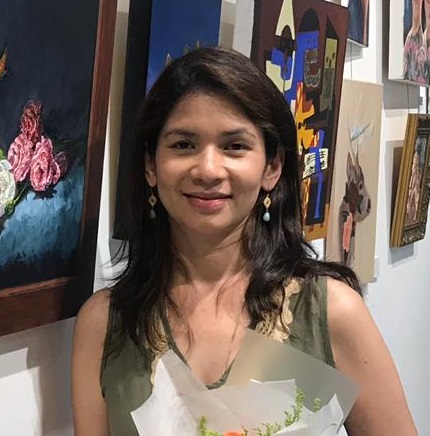 RAJALETCHUMY | SINGAPORE
" I tried to knock into my childhood love for drawing and painting. My inspiration come from nature. I want my art to tell the stories of the natural world as it is close to my heart. I want my art to beckon you to a place where you not only feel connected but also to see what lies beyond ones sight."
Rajaletchumy discovered her passion for art at an early age. However, it wasn't until 2014 that she decided to explore painting seriously and enrolled in a Western art course at NAFA. as well as with Art Village, to develop her skills.
Since then, Rajaletchumy has tried various styles and mediums but found herself most comfortable in contemporary impressionism style in mix media and oil paint. Her love for nature, especially flowers and birds, has been a constant source of inspiration for her artistic journey.
In addition to traditional canvas paintings, she also creates beautiful greeting cards, showcasing her creativity in a different format.
Rajaletchumy believes that nature is an endless source of inspiration. Today, Rajaletchumy continues to create stunning works of art, drawing inspiration from the world around her and the beauty of nature.